Yay! It's time for some more photos, music and whatever I want to write here! First of all, after spending my afternoon on translations from English to French, I decided that I won't write on this blog in English first anymore, because I felt my French went from ok to quite poor, and though writing in English was a good exercise to think in English, I need to get back to French and learn vocabulary again, which could be faster if I write. However, this will only apply to my new posts, not those I already started. And by the way, if you have a better solution, I will welcome it warmly!
Now for the music, the track above comes from the album 100% of the band The Slew. Kid Koala is part of this band, and one day will come where I will tell you more about this crazy guy, but now all I will say is that he is great. Yep, this should be enough (for you to listen some of his materials right now). The Slew was a live-only project, in fact in the beginning it was a soundtrack, but then things went wrong, and better and so much better now that we can listen to this amazing album. If you want more details about how everything happened, you can go there. 4 weeks before the tour, Kid Koala gave the album as a free download for a month, which was a great initiative! I can tell you this is a great album, and I can't wait to see them live if they ever tour in Europe!
And now, let's put some pictures here before I go to sleep!

\o/ De retour pour de nouvelles photos, de la musique et n'importe quoi d'autre si j'ai envie de toute façon c'estmonblogetpuisj'ai18ansalorsjefaisc'quej'veux ! Mais d'abord, pour information, et après avoir passé l'après-midi à faire des traductions anglais-français, j'ai décidé de ne plus commencer mes articles en anglais pour revenir au français parce que j'ai l'impression d'avoir perdu pas mal de vocabulaire. Donc il faut que je pratique à nouveau, et l'écriture en est un bon moyen. Evidemment ça ne concerne que les articles à venir, ceux que j'ai déjà commencé resteront dans le même format. Et si à tout hasard vous avez d'autres suggestions, je suis toute ouïe !
Maintenant, la musique ! Le morceau que je vous ai mis cette fois-ci est extrait de l'album 100% du groupe The Slew. Un groupe dont fait partie Kid Koala, encore un artiste dont il faudra que je vous parle tôt ou tard parce qu'il est complètement génial, mais pas aujourd'hui, je me contenterai de dire qu'il est génial. Et ça devrait vous suffire en fait (pour vous empresser d'écouter ce qu'il fait). The Slew à la base c'était un projet live uniquement, enfin non, c'était un projet de bande originale, mais ça a merdé, et puis c'est allé mieux, et même carrément mieux ce qui fait qu'on peut écouter leur album complètement génial. Si vous voulez plus de détails (en anglais) sur l'origine et la formation du groupe, vous pourrez en trouver ici. 4 semaines avant leur tournée, Kid Koala a offert en téléchargement gratuit l'album en entier, une initiative complètement géniale ! D'ailleurs je l'ai déjà dit mais l'album est complètement génial, et j'ai hâte de les voir en concert s'ils se décident à venir jouer en Europe !
Allez, passons aux photos avant que j'aille me coucher.





Our hermit again, getting out of his vault for some reason. This was our first day of shooting, only with the hermit so you won't see another character. We had two nice spots, the first one that you can see above, was an old quarry. We found a few intersting things in there, in addition to this sort of trap, such as pieces of road, but it wasn't easy to use.

Notre ermite à nouveau, qui sort de son abri. C'était le premier jour de tournage en quelque sorte, uniquement des plans de coupe sur l'ermite donc vous n'allez voir que lui. On avait deux bons lieux, le premier que vous pouvez voir au-dessus, était une ancienne carrière. Il y avait quelques trucs intéressants en plus de cette bouche d'entrée, comme des morceaux de route, mais c'était assez compliqué à exploiter.





This is our second spot, and again we had some cool things around, like this tank and 2 other vehicules. The second picture is one I spent a lot of time on, and I like it even now after 6 months, it reminds me of Stalker (I'm talking about the game here, the movie was a bit more raw), another thing I will have to talk about here. Anyway, I still like it but there's something wrong with it, and I can't find the courage to start all over again.

Voilà notre second lieu de tournage de la journée, qui comportait lui aussi son lot de trucs sympathiques comme ce tank et 2 autres véhicules. J'ai vraiment passé beaucoup de temps sur la deuxième photo, à la développer, et après 6 mois j'aime toujours le rendu, ça me fait penser à Stalker (le jeu, le film était plus brut) dont il faudra que je parle ici un jour. Bref, j'aime toujours cette photo mais je lui trouve quelque chose qui cloche, et je sais bien que je n'aurai jamais le courage de la retravailler en partant de zéro.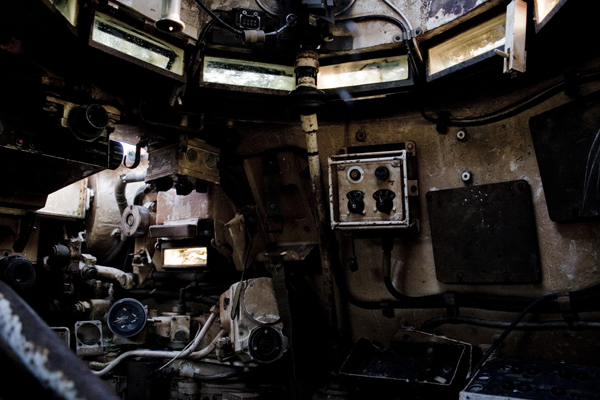 First time for me to see the inside of a tank. Of course this one wasn't working anymore, and I think it was even better this way. It was all dirty and scratched, I don't know how long it has been there, we could even find some bullet holes. Of course while 2 of us were shooting, the 2 others were fooling around, playing with the tank, moving the turret and everything.

C'était la première fois que je voyais à quoi ressemblait un tank de l'intérieur. Evidemment celui-là n'était plus en était de marche, il était tout crade et abîmé même à l'intérieur et c'était encore mieux comme ça. Je ne sais pas depuis combien de temps il servait de décor, il y avait même des trous et des impacts de balles. Bien entendu, pendant que 2 d'entre nous prenaient les plans, les 2 autres étaient comme des gosses à faire joujou dans le tank, et à bouger la tourelle.





A few of my last shots before I ran out of battery. I just popped my head out of the tank to take those. As you can see our cameraman chose a very comfortable position. You also probably noticed how green it is all around us. I guess this is another reason why these pictures remind me of Stalker more than any other post-apocalyptic game, usually in dusty shades. I like both, and I wouldn't mind trying to shoot again in this kind of post-apocalyptic world where vegetation is still alive. It's just something we must think about before doing the movie, we need to work on consistency.
With this wise thought, this post is over and ends with another picture of the hermit walking in the wastelands. More to come, if I'm not lazy and take some time to make a selection in all the photos I took during the second day of shooting.

Quelques unes de mes dernières photos de la journée, avant que ma batterie ne me lâche. Je n'ai eu qu'à sortir ma tête du tank. Comme vous pouvez le constater, notre caméraman a choisi une position des plus confortables. Vous aurez peut-être aussi remarqué une forte présence verte. Je pense que c'est aussi pour cette raison que ces photos me font penser à Stalker plus que n'importe quel autre jeu se déroulant dans un univers post-apocalyptique, qui sont plus généralement dans des tons poussiéreux. J'aime bien les deux en fait, et ça ne dérangerait pas d'essayer à nouveau de faire un film post-apo où toute la végétation n'est pas morte. Il faut simplement qu'on y réfléchisse plus longuement avant de tourner, qu'on prenne soin de faire quelque chose de cohérent.
Sur ces belles paroles, cet article s'arrête ici et se clôt sur une photo de l'ermite en plein vagabondage. La suite un jour, quand j'aurai le courage de faire le tri entre toutes les photos prises le deuxième jour de tournage.